Conference – Video Conferenza Neutroni per l'Italia
Opportunità per nuovi sviluppi della scienza con i neutroni
Sede CNR di Roma, Piazzale Aldo Moro
Aula Convegni
Venerdì 6 Dicembre 2013 ore 09:00 – 18:00
La conferenza è organizzata dal DSFTM per il CNR su iniziativa dei Presidenti di CNR, INFN e ST. Ha lo scopo di evidenziare la vivacità del settore, le ricadute scientifiche (anche al di fuori dell'ambito della fisica) e quelle industriali, nonché le attività di formazione e di training per giovani ricercatori e tecnici. Ha inoltre l'obiettivo di individuare una linea condivisa di sviluppo dell'utilizzo delle sorgenti di neutroni ESS, ILL e ISIS a partire dalle esigenze emergenti dalla comunità scientifica italiana.
PRESENTAZIONI
Caterina Petrillo – ESS un'opportunità per l'Italia
Paolo Mariani – Il punto di vista della SISN
G. Paolucci – Il contributo tecnologico Elettra-Sincrotrone Trieste
M. Marazzi – ESS In-kind management e relazione industria
Sintesi del Convegno
Click to show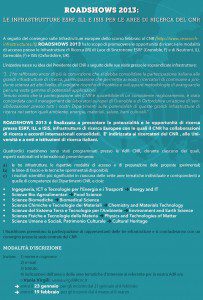 6 Febbraio 2013 – ROADSHOWS 2013 ha lo scopo di promuovere presso i ricercatori del CNR le opportunità di ricerca e le modalità di accesso presso le Infrastrutture di Ricerca (IR) di Luce di Sincrotrone ESRF (Grenoble, F) e di Neutroni, ILL (Grenoble, F) e ISIS (Oxfordshire, UK).
Workshop – Italian physics for european research infrastructures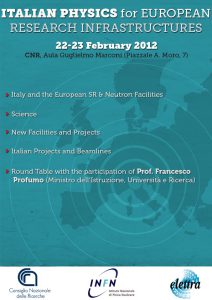 22 – 23 Febbraio 2012 – CNR, in collaboration with INFN and ELETTRA, is organizing the two day workshop "Italian Physics for European Research Infrastructures" to discuss the current status of research using neutron and synchrotron radiation probes. The workshop will be an opportunity to consult on the potential use of current and future European facilities for research into material science and engineering, soft condensed matter bio-molecular sciences and advanced materials.