ETTORE MAJORANA FOUNDATION AND CENTRE FOR SCIENTIFIC CULTURE
Instruments and Devices for Neutron Scattering Experiments
Directors of the Course: Ken Andersen  (ESS),  Roberto Caciuffo (European Commission,  JRC Karlsruhe)
28th July– 4th August 2015
I Course within the Erice School "NEUTRON SCIENCE AND INSTRUMENTATION" (Directors: Ian S Anderson, Carla Andreani and Roberto Caciuffo) and XIII Edition of School of Neutron Scattering (SoNS) "Francesco Paolo Ricci".
The School is normally highly oversubscribed, so we encourage applicants to apply early, as late applications will not be accepted.
Group Photo 2015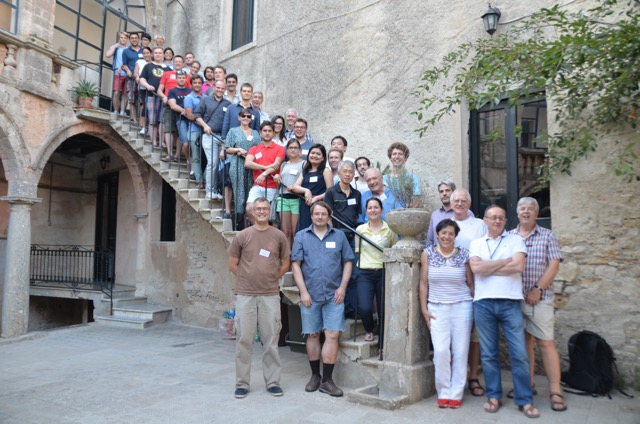 From top left: Oliver Merle, Robin Woracek, Laura Gonzalez Vivas, Paul Barron, Rocco Triani, Antonio De Bonis, Jesus P. De Vicente, Federico Masi, Philippe Gros, Kendal Bingöl, Laura Arcidiacono, Thorsten Zechlau, Juri Schroffenegger, Joans Okkels Bick, Clara Lopez,  Lorenzo Di Fresco, Yongjin Jeong, Monica Huerta,  Katsuaki Tomoyori, Roy Shalev,  Yashika Bansal, Selyakov Dunill,  Gishin Nikita, Umberto Luca Ranieri, Chun Loong, Jack Carpenter, Victoria Garcia-Sakai, Ken Andersen, Roger Pynn, Carla Andreani, Roberto Caciuffo, Andrew Taylor.
Students are encouraged to join the school page on Facebook