ETTORE MAJORANA FOUNDATION AND CENTRE FOR SCIENTIFIC CULTURE
Water and Water Systems
Directors of the Course: R. Car (Princeton Univ.) and F. Mallamace (Univ. of Messina)

22nd July– 31st July 2016
III Course within the Erice School "NEUTRON SCIENCE AND INSTRUMENTATION" [Directors: Ian S. Anderson (ORNL, US), Carla Andreani (University of Rome Tor Vergata, I) and Roberto Caciuffo (European Commission JRC Karlsruhe, D)] and XV Edition of School of Neutron Scattering (SoNS) "Francesco Paolo Ricci".
The School is normally highly oversubscribed, so we encourage applicants to apply early, as late applications will not be accepted. This Course focuses on water and water systems and will include advanced scientific discussions and lectures on the theory, simulations and experiments devoted to understanding condensed water phases and water solutions.
Proceedings of this Course will be published on a Special Issue of Frontiers of Physics (Higher Education Press and Springer).
Group Photo 2016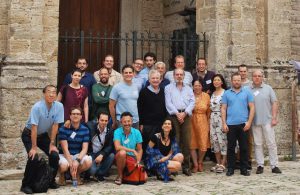 From top left: work in progress
The course has a target audience of 15-20 students. Students are encouraged to join the school page on Facebook